Contributors
O.T.O was curated eight students on the Curating Contemporary Art (MA) programme at the Royal College of Art, in partnership with LUX and supported by futur.shock.
Artists & DJs
Adam Farah-Saad
Adam Farah-Saad (they/them) – sometimes known as free.yard – is an artist, composer, sauce-maker and bootleg archivist. They are also a Capricorn Sun, Leo Moon and Cancer Rising. Working in a range of media and performative gestures, from moving image, sculpture, poppers, peppers and iPods to walking, cruising and microdosing, Farah aesthetically highlights and dwells on various ephemeral and poetic moments in order to open-up forms of critical reflection and connection.
freeyard.net

Ahaad Alamoudi
Ahaad Alamoudi (she/her) was raised between England and Saudi Arabia, and works in Jeddah and London. Travelling between the two kingdoms, Ahaad's work addresses history and representation. She graduated from Dar Al Hekma University in Jeddah with a BA in Visual Communication in 2014 and graduated with an MA in Print from the Royal College of Art in 2017. In her research about Saudi's reforming ethnography, Ahaad's photography, video and print installations aim to reinterpret historical renditions of a reforming culture.
ahaad-alamoudi.com

Anna Clegg
Anna Clegg (she/her) is a visual artist and musician. Having graduated from Chelsea College of Arts with a BA in Fine Art, her work has since been included in group shows at greengrassi, London (2022), Nicoletti, London (2022), SET Woolwich, London (2022), Koppel Projects, London (2020) and ERGO Collective Space/Space 52, Athens (2020). She hosts a monthly radio show titled Worthwhile Unions on Resonance Extra, which focuses on experimental sonic collaborations between contemporary artists.
relevant-confluences.com
David Hall
David Hall (1937-2014, he/him) was a British artist working primarily with video and television. He is regarded as one of the pioneers of British video art and his work has been exhibited at institutions including Documenta, Kassel; Tate, London; Centre Pompidou, Paris. He was a founding member of the Artist Placement Group (APG) and established the first time-based media degree in the UK in 1975.
HabibTati
(Habib-tati) Tatiana (she//they) is an Iraqi/Iranian-Armenian DJ and Cancer sign! She aims to decolonise music and create a space for all communities and the LGBTQ+ community to inspire, innovate and break barriers. Grown up in london she brings in sounds of garage, edm and drum beats to coincide with SWANA sounds and rhythms in the family house. "I want to bring sounds that come from my values but more importantly having a good time"

Hellikisto

Hellikisto (he/they) pronounced: /hell~e~kiss~tow/ is a musician and Dj living in East London, originally from UK, Greater Manchester. A multifaceted artist with a background in dance and visual arts. Hellikisto sets are a mix of experimental and dreamy pop intertwined with hyper-pop and R&B. They grew up listening to tunes on cassette inside an old Volvo stuck in his family home driveway, shiny pale green exterior and beige leather interior. Blasting Destiny's Child - Say My Name for the whole street. Safe to say the kid loves music and wants people in the room to love it too.

Hugo Hutchins & Maria Mahfooz
Hugo Hutchins (he/him) is an Artist and Writer born and based in London. Working in a wide range of media from sculpture, video, writing, ceramics and sound. His work is unashamedly intertwined with pop culture - 10% of his iPhone camera roll is comprised of screenshots of memes found on Twitter. He has an ongoing e
nquiry into the relationship between whiteness, masculinity and queerness. His debut book 'Onedirectionfuturism' explo
ring this relation has now been sold in over 50 countries. He frequently collaborates with artist Maria Mafooz on projects that use the language of social media, meme and fan culture.
hugohutchins.com
Maria Mahfooz (she/her) is a London based artist working with themes of representation in the digital sphere. Her work is frequently autobiographical, guided by her identity as a visible Muslim woman of colour she playfully navigates social media platforms and pop culture clichés to explore her sense of self. She frequently collaborates with artist Hugo Hutchins on projects that use the language of social media, meme and fan culture.
mariamahfooz.com

Tarzan KingOfTheJungle
Tarzan Kingofthejungle (he/him) is based in London. Since graduating from the Slade School of Fine Art, he has shown at The Bomb Factory, London, Rea! (Fabbrica Del Vapore), Milan and Spazio Musa, Turin. He focuses on creating ambiguous narratives, loosely based on personal experience and observed synchronicities. Film, performance, installation and storytelling are all mediums he uses to phenomenologically question his surroundings. Recently he has been experimenting with narrative tools and cinematic techniques to create experiential works that attempt to operate in a sweet spot between the banal and the incomprehensible. By seeking sincerity in the absurd, and allowing it to permeate the mundane, his work can often be read as both whimsical and tragically heartfelt.
tarzankingofthejungle.com

Curators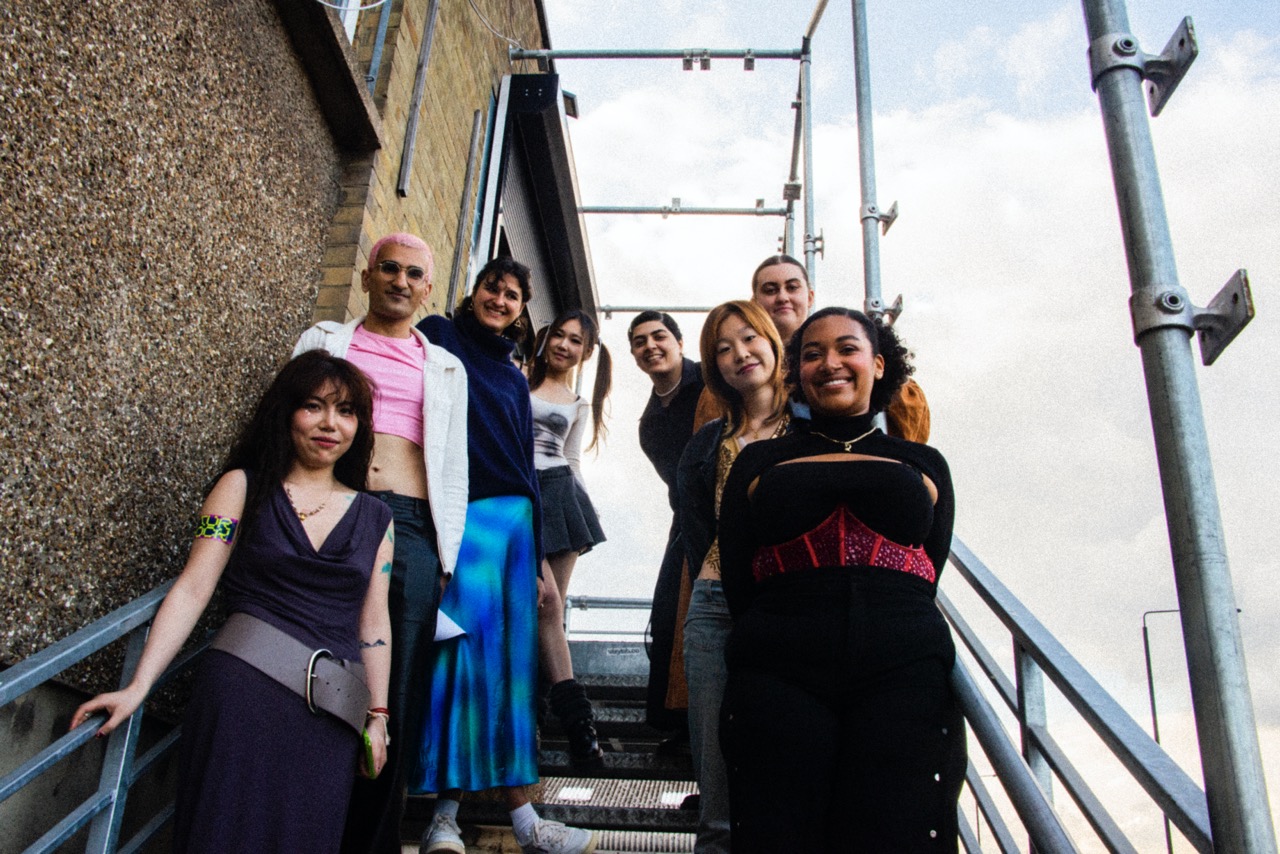 Ambre Panhard
Ambre Panhard is a creative facilitator and dancer interested in the social role of art. Her work is rooted in collaborative practices to promote a more interconnected understanding of society. She is interested in interdisciplinary approaches, debating contemporary issues, practising collective joy and exploring new ways of learning and engaging. She has worked with the art and ecology collective Le Bruit Qui Court in France and with the Islington Climate Centre and The Feminist Library in London.
Anqi Zhang
Anqi Zhang (she/her) uses curating and painting as the primary medium to explore the relationship between individual bodies, spatial power, visual representations and labelized discourses. She is interested in how queer bodies and pop culture intersected with race and authority to be represented, narrated, and transformed in the shifting cultural contexts she is encountering.


Elizabeth Langton
Elizabeth Langton is an artist, curator and knitter based between London and Kent. Her work explores an interest in class structures, popular culture, humour, and mischief. Her practice aims to create space for artists and creative practitioners to explore alternative methods of exhibition. www.langtonelizabeth.com


Malak Alhajri
Malak Alhajri is a curator, musician and visualist. Based between London and Riyadh, Malak's practice revolves around themes of boundary-breaking, identity, [pop]ular culture/music, and exploration through focusing on unconventional methods of curating and exhibiting. @malajri

Nikki Nita Ramírez
Nikki Nita Ramírez is a gallerist and curator based between New York and London. Ramírez is the co-founder and co-director of Danuser & Ramírez, a contemporary art gallery based in London championing emerging artists with underrepresented voices. Her previous positions have been at The Solomon R. Guggenheim Museum, the Museum of Modern Art, The Peggy Guggenheim Collection, and most recently, The Studio Museum in Harlem. Ramírez's practice is based on bridging the gap between the ancient antiquities of the Baroque and the contemporary art scene today. @nikkinitaramirez danuseramirez.com


Olivia Chen
Olivia/Guanchun Chen is a gardener, curator, writer, and artist, based in Shanghai, London, and Europe. Her main research areas include ruin and urbanisation, architecture and memory, macro and personal narratives and reflective methodology. Her current work focuses on curating as a radical relational practice that embodies the potential of the relationship between the individual and society/community. She binds the curatorial to love and chaos in response to the madness of the curatorial as an ethic to confront the world. She is interested in interdisciplinary projects, and has worked in the fields of art, architecture, film, and fashion.


Siavash Minoukadeh
Siavash is a curator and programmer working with moving image and experimental film. He is currently Programme & Marketing Assistant at Open City Documentary Festival. They are also a writer and were shortlisted for the Michael O'Pray prize in 2022. siavash.cc


Sukii Lu

Sukii Lu (b.1996, Shanghai) is a London-based curator and current MA Curating Contemporary Art student at the Royal College of Art. Sukii is also the founder of art brand 'Above Kitsch'. Her practice includes curating, research, and writing, as well as delivering public programming such as tours, workshops and educational sessions that aim to acquaint individuals with modern and contemporary art.
Thanks
Laura Valles Vilches
- Royal College of Art
Benjamin Cook
- LUX
Karolina Magnusson Murray
- futur.shock
Sun Park
- LUX
Fiona Key
- Royal College of Art
Xavier Andrews
Peter Batterby
Brodie Rake
James Bentham-Wood
Ayah Al-Saadawi
Lewis G. Burton

Sara Sassanelli

About the Curating Contemporary Art programme
The Curating Contemporary Art (MA) programme is recognised as an international leader in the field, providing students to develop innovative curatorial proposals with London-based arts organisations.
The Royal College of Art
is the world's leading postgraduate institution of art and design and is based in London.
rca.ac.uk

About LUX
LUX is the UK agency for the support and promotion of artists working with the moving image. Founded in 2002 as a not for profit company and charity it builds on an over 50 year history legacy began with its predecessor organisations the London Filmmaker Co-operative, London Video Arts and the Lux Centre.
lux.org.uk

About FOLD
futur.shock is a multi-disciplinary not-for-profit arts platform by FOLD supporting contemporary & experimental music & art from within a club environment.
@futur.shock